St. Anthony Sand Dunes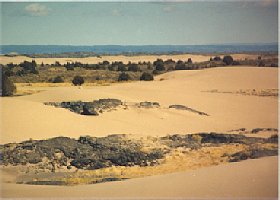 The northern edge of the sand dunes, west of St. Anthony. The black rocks in the foreground are basalt, a volcanic rock. The blue ridge in the background is called the "Ashton Hill" and is actually the caldera of a huge inactive volcano. Island Park is the area inside the old volcano and is fifty miles across. The town of Island Park boasts of "the world's longest main street." The opposite rim is at the Montana border and you would cross it at Targhee Pass. Then its just a few miles down hill to West Yellowstone, MT. Yellowstone Park is made up of two equally huge, overlapping volcanoes. If any of the three blows, the other two will go, and there will be lava all the way to Pocatello. Geologists predict they will erupt sometime between today and 20,000 years from now.
Cort Conley in "Idaho for the Curious" ( Backeddy Books, Cambridge, Idaho. 1982), p. 160f, describes them as the highest sand dunes in state, "perhaps the highest in the country, since they surpass those of Death Valley. . . . the dunes cover an area about thirty-five miles long and up to five miles wide."
---
Contact State Coordinator at IDGenWeb to contribute to this site, to report broken links or to adopt a county.
---